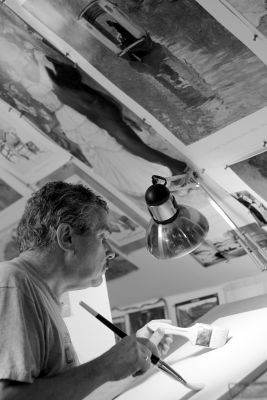 The act of painting has been a life long passion of mine. Creating is an adventure that allows me to get lost in my own world and in that moment nothing else matters.
The family history of visual artists and musicians has provided me with the natural genes. I always felt a certain affinity to the French Impressionism and I have studied them on my own. I am a self-taught artist and I refine my skills by watching, studying, absorbing, understanding and participating with other artists. If "Art is the Minds Impression" then my work is to reflect that notion.
My goal is to connect with the viewers and to leave in this world an impression of me as small as it may be.
ROBERT CROOKER – BIO
A current resident of Wakefield, Massachusetts, Robert Crooker comes from a family with a long heritage in the arts. He however, considers himself a self-taught artist.
His earlier years were spent collecting Vintage Disney Collectibles and becoming a world-renowned expert in Vintage Disney merchandise. This passion propelled him to start painting Disney's characters; he calls that period "his practice years". These works were necessary to fuel the love for the arts and helped him refine his skills until he was able to adventure on his own and produce the work that he is now known for.
Robert's work is an extension of his vision, detailed, meticulous and yet reflecting his passions and emotions of the every day life.
Robert is a member of:
Tewksbury Community of Artists
The Reading Art Association
Robert's work has been exhibited at:
Fort Point Arts Community Studio Members Group Show.
Fort Point Arts Community Holiday Show.
Red Platform Exhibition, Midway Studios, South Boston.
Lakeside gallery at Rolling Ridge Convention Center, North Andover, MA.
Salem Arts Festival juried exhibition.
Otis Arts Festival.
Art in the Park sponsored by the Andovers Artists Guild, Andover, MA.
Topsfield Fair
Melrose Arts Festival
Grace Chapel Art Gallery, Lexington MA.
Reading Art Assoc., Spring Art Exhibit
Chelmsfort Art Society July 4th Exhibit
Illuminations - Mass. General Hospital Cancer Center
Massachusetts State House
Awards and recognition can be viewed at www.mouseman.com/Artwork1.htm
www.robertcrookerart.com themouseman@verizon.net
Primarily a life long self-taught artist.
Attended Life Drawing classes at Montserrat College of Art, Beverly, MA. in 1976 and 1977.
Currently a member of Tewksbury Community of Artists, Tewksbury, MA.
Currently a member of The Reading Art Association, Reading, MA.
Retired – Full Time Artists – Acrylic on Canvas.